Well, we've have had some real weather here and the part of the bus I needed to work on was the only part sticking out of the garage! Between bouts of wind and rain we managed to get the window posts closed in behind the windshield, the beam welded in above the door and the drivers side window framed in. The wing windows had to be removed for this step and the railing will need to be adjusted to fit. The windshield had to be moved forward about an inch to match the new angle caused by the 6 inch lift.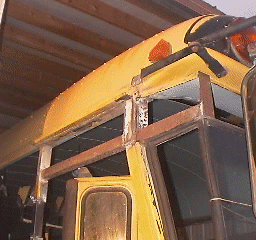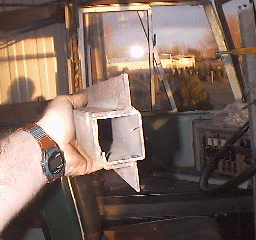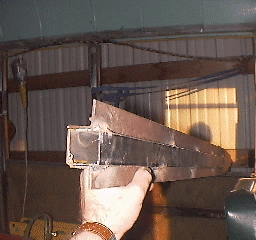 The second and third photo here show the piece I made to install above the windshield. This is the point where the greatest stress will be borne around the windshield. The lower tab will slip down into the rubber windshield seal, a piece of sheet metal will be welded from the upper tab to the rail where the windshield previously seated. Fortunately the angles here are all square so the fabrication was fairly straightforward.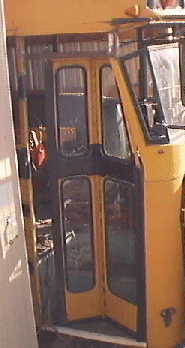 I should mention something about the door at this point, most people pull the folding door and replace it with a conventional RV style door. But I just love driving around with the door open, reminds me of youthful days cruising around in my Jeep maybe, or standing and looking out the open door of a train back in the days when you could? You cant do this with any other kind of bus door, this one folds back into the cabin. Yes, it will leak and be noisy as hell, I will tend to that as best I can. This is supposed to be a fun family project, so far everyone including the dog are fascinated by that open space flying by where a door should be ( I will have to put up a net in case a rabbit or squirrel might tempt the dog along the road somewhere).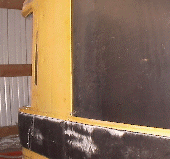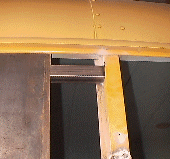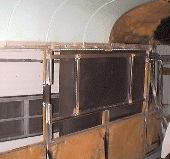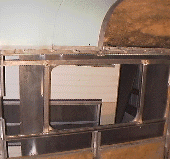 Next step is sheeting the side panels in, I have chosen to use sheet metal about the thickness of a dime. My first thoughts were that it would be easier to weld in the panel, this turned out to be more trouble than it was worth so I changed horses in midstream (easy once you get used to it) I ground out the tack welds and shifted the plan to pop rivets. It actually worked out pretty well. The panels slip in under the upper window lip and down onto the lower window ledge. After angle iron is placed in behind the panels and riveted in they are tightly sealed! I am dispensing an adhesive by caulk gun liberally between the surfaces to silence any noise and seal out water. The next line of photo's will show rivet detail.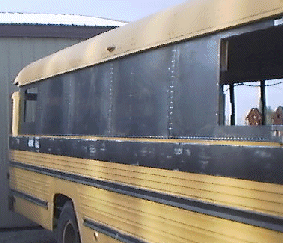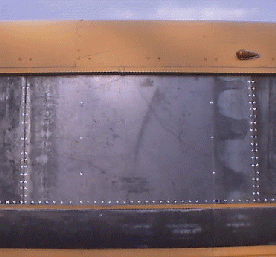 900 rivets so far! 1 1/2" spacing.